It might be confusing that, when you find it for the first time that a Legal Size Paper and a Standard Size Paper are actually not the same thing- because it is bit complicated to explain how to identify a Legal thing from a Standard one, if take it literally. In fact, the former is in scope of US paper sizes, while the later normally means ISO standard paper sizes. Other questions about may puzzle you too when encounter in work and life, for example, if you are American, what is A4 paper size, the most widely used paper size in the world except North America? And A3 size, A5 size? Or, if you are not an American,then what is Letter paper size or Tabloid paper size?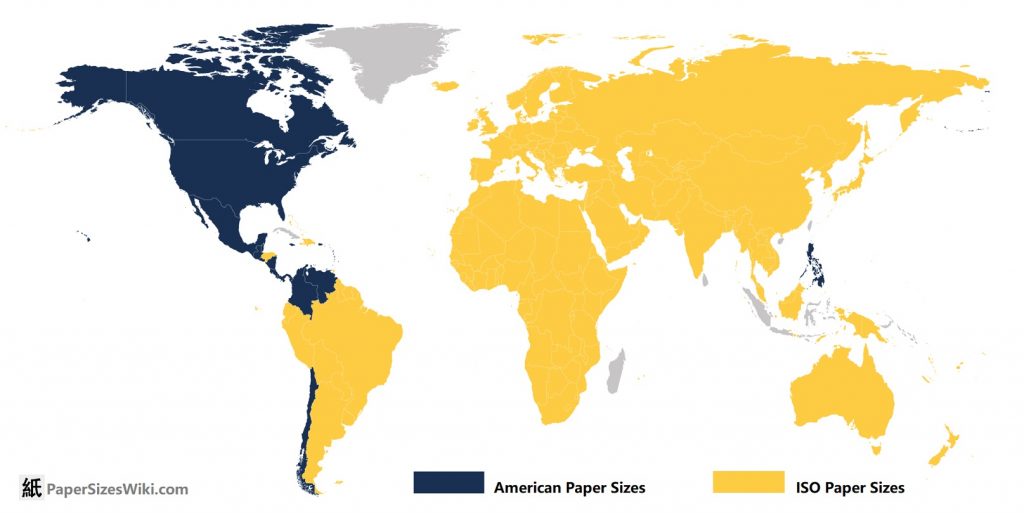 As mentioned above, standards of paper size vary in different areas of the world. ISO size standards are accepted by the most Countries, while US size standards are mainly used in U.S., Canada and a few other non-American country like the Philippines. Below are quick links for the most of information involved in this site, more can be found from the top and side menus, you can also use the search box to look for what you want about.
You can also search more information you want using the search box, or tell us if there are missing or inaccurate details. Information will be added constantly in response to your request.
ISO Paper Sizes
When we talk about ISO paper size, we normally mean the ISO 216 standard, which includes ISO A series sizes and ISO B series sizes, specifies the trimmed sizes of writing paper and certain classes of printed matter. There are also C series sizes but specified by ISO 269 standard. Most ISO standard sizes are all based on the √2 ratio, which means, the length of a sheet is equal to its width times 1.4142.
There is also ISO 217 standard, which specifies untrimmed paper sizes- RA and SRA.
A Series Sizes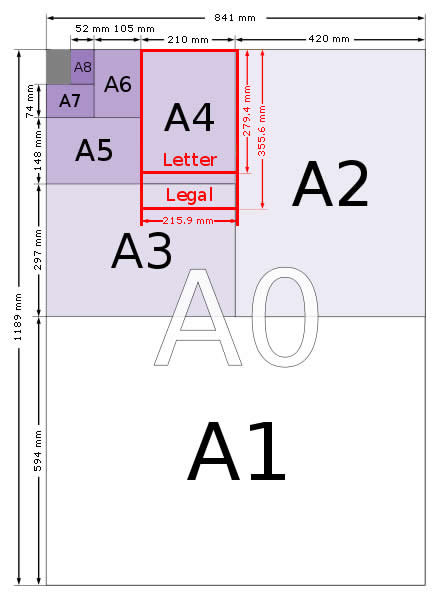 The ISO A series is the most widely used paper measurement standard in the world, it has been spreading very fast after it was created in 1975. A0 is the the largest size in this series, numbers last to A1, A2, A3, A4 and so on, but for A sizes after A8, there are not a lot of operability in exact work because of the really too small size.
Rules:
S(A0) = Exactly 1 square meter (S means total area)
The length of the sheet is equal to its width times 1.4142.
An is devided into two equal parts of A(n-1) size, so
S(An) = 2 x S[A(n-1)]
>> A Series Paper Sizes – A0, A1, A2, A3, A4, A5, A6, A7, A8
B Series Sizes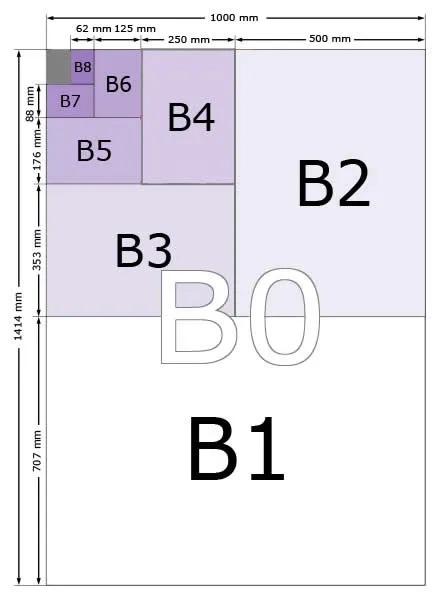 The ISO B sizes was introduced in case of the A series isn't suitable, it is normally used in commercial printing work like for posters, also to fit for some professional printers for magazines and maps. Its unique usage makes B series  not so popular as A series. Also, different from A0 measures 1 m² in area, B0 starts from a width of 1 meter. And as mentioned, ISO ratio logic applies to B series too. Same as A series, B sizes after B8 don't have a lot of operability in exact work.
So, rules are here:
Width(B0) =  Exactly 1 meter
The length of the sheet is equal to its width times 1.4142.
Bn is divided into two equal parts of B(n-1) size, so
S(Bn) = 2 x S[B(n-1)]  (S means total area)
>> B Series Paper Sizes – B0, B1, B2, B3, B4, B5, B6, B7, B8 
C Envelope Sizes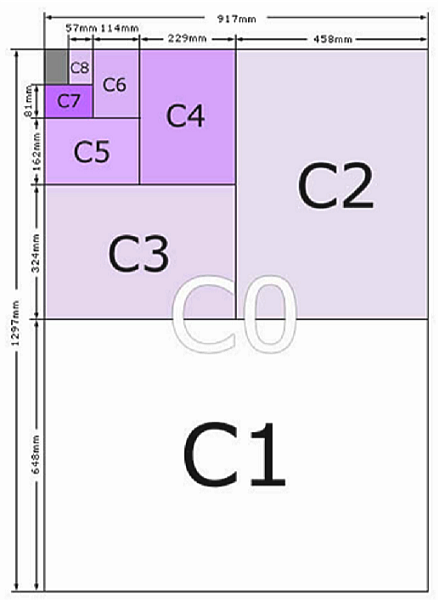 The ISO C Series is used for envelopes fitting the dimension of A series paper of same size number, and slightly larger than it. That's why it is also called C envelope sizes, and used right in the areas of the world where A series paper covers.
ISO ratio logic applies, the length of the sheet is equal to its width times 1.4142.
S(Cn) = 2 x S[C(n-1)]  (S means total area)
>> C Series Paper Sizes (C Envelope Sizes) – C0, C1, C2, C3, C4, C5, C6, C7, C8
D Series Sizes (Non-ANSI D Size Paper)
ISO D series is not used widely, we have tried to search for more information about this series for a while but there is rare found. It is said that D series has same usage as C series but fits for B series as envelope use,  but we think it is not correct because a C(n) sheet is much smaller than a B(n) sheet, how can it hold a flat sheet bigger than itself? It is much more close to fit a B(n-1) sheet. Please tell us if you know about it, thanks.
RA sizes and SRA sizes
When representing sizes for paper, RA stands for "RAW format A", and the word SRA for "Supplementary-RAW format A", thus they are slightly larger than the standard A sizes. Defined by ISO 217 standard, RA and SRA Series are oversized and are used by printers for metric sizes. Please find information about RA and SRA sizes in A paper sizes.
American Paper Sizes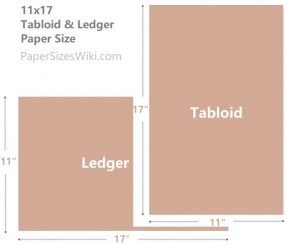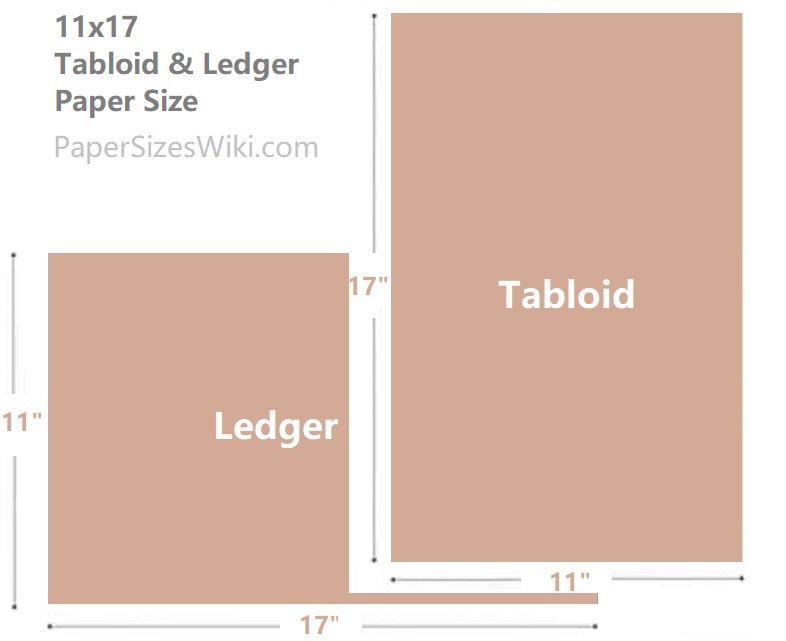 The US and Canada primarily use a different sizes system for paper, compared to the rest of the world. They use unique words, such as, Letter, Legal, Executive, and Tabloid/Ledger as the most common paper size terms. US sizes are the only ones included in CSS (Cascading Style Sheets), which is use for website construction. Letter paper size is the most popular size used in the US; while Legal size paper, called foolscap size paper too, also used in the UK, and Commonwealth Countries.
Besides, there are ANSI standard and Arch standard in US. The ANSI standard, which has sizes from A to E, was established in 1995 and created a set of sizes based on shared dimensions. The Arch sizes is from A to E too. ANSI B+ and Arch E1, E2, E3 were then added as extensions to refine the standards.
Paper Sizes in Other Countries, and Sizes For Certain Usage
Beside the size standards we listed above, there are other different sizes of paper used in other countries. There are also sizes for certain use, for example, Poster, Postcard, Picture, Business Card, Envelope, etc. Hope you can find all the related information you want in this website, or tell us if you can't.