As part of ISO216 defined size series, ISO C envelopes are mainly used to adapt to ISO A series size papers. That is to say, each C envelope with a serial number corresponds to an A series paper with the same serial number, their sizes are close, but C is slightly larger.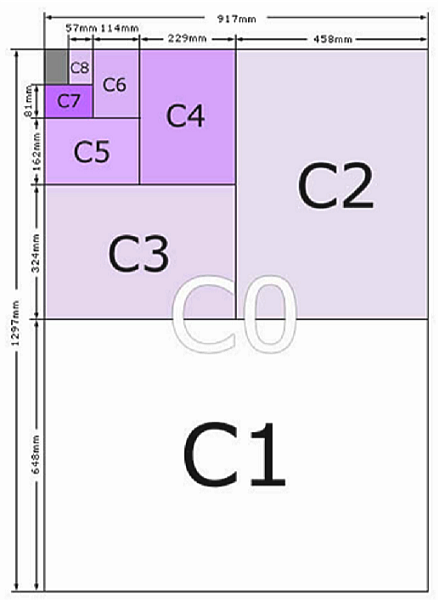 C Envelope Sizes Rules
Just because ISO C size envelopes are designed to encapsulate A size paper, their sizes also follow the most of rules as of A paper sizes definded by ISO216. That is, the ratio of length to width is √2:1, and the size of each envelope is exactly equivalent to what of two envelopes of next number.
Named from C0 to C10 and even after: C0, C1, C2, C3, C4, C5, C6, C7, C8, C9, C10..
The length of the sheet is equal to its width times 1.4142. (√2:1)
C Envelope Sizes Chart |
Dimension Table
The most common used ISO C envelopes are C4, C5, and C6 size. Larger or smaller sizes are not commonly used, because it is not convenient for mailing and delivery. And of course, a larger A size paper can be folded to fit for a smaller C size envelope.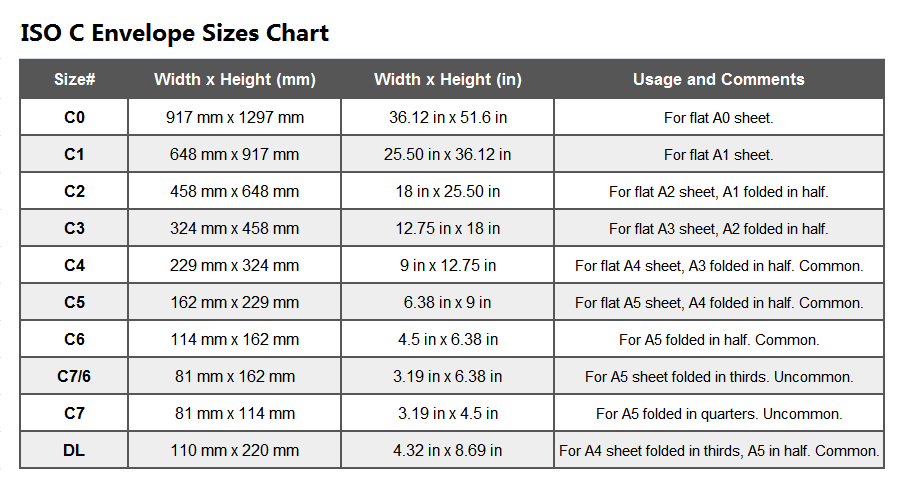 Dimension Tolerance of ISO C Envelopes
Same tolerance standards are followed as ISO A paper sizes:
The tolerance is ±1.5 mm (0.06 in) when both the length and width are less than 150 mm (5.9 in),
The tolerance is ±2 mm (0.08 in) when both the length and width are between 150 mm and 600 mm (5.9 in and 23.6 in),
The tolerance is ±3 mm (0.12 in) when both the length and width exceed 600 mm (23.6 in). 
DL Envelope Size | Business Envelope Size
In the application of business letters, DL-sized envelopes are widely used. Although its size does not comply with the requirement of width-height ratio of C envelope size, the size of DL commercial envelope is the only one based on ISO standard size except C envelope size. Accurately speaking, the DL envelope size is based on the sheet applied to A4 paper size. Fold the long side of A4 paper into four equal parts on average, or fold the short side of a5 size into two equal parts, and the obtained sheet size right for the size of DL envelope.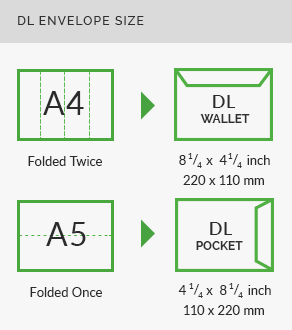 DL Envelope Size: 110 mm × 220 mm (4.33 in × 8.67 in)
If you want to know more about other common envelope sizes, please refer to the common envelope sizes.