The types of paper can be defined by usage and manufacturing process. Paper for different purposes usually has different physical properties. By the same token, papers made by different manufacturing processes have great differences in look and feel. Below are the paper types by catalogues and descriptions.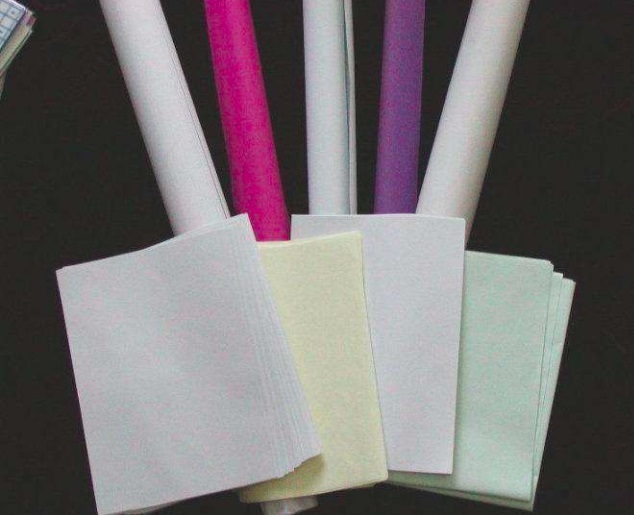 Paper Types by Catalogues
Printing papers for wide variety printing process and end use.
Writing paper for stationary requirements, including ledger, bank, and bond paper.
Wrapping papers for the protecting merchandise and goods, including wax and kraft papers.
Drawing papers, normally with rough surfaces, used by designers and artists, and also includes cartridge paper.
Blotting papers, contains little or no size.
Handmade papers are mostly decorative papers or papers used for special usage, now there are few types of handmade papers left due to the demise of traditional craftsmanship.
Specialty papers, includes cigarette paper, toilet tissue, and many other industrial use papers.
Other Description of Paper Types
LWC (Lightweight coated paper)
One kind of Printing Paper. High smoothness, high brightness, anti-moisture, anti-abrasion, anti-leakage, good evenness, can print single color and multi-color images of art, propaganda poster, labeling and high-end newspapers.
Coated Paper / Art Paper
High-level printing paper coated with white paint. There are single side coated, double side coated paper, matt coated paper, Gyrosigma coated paper, etc. Coated paper is widely used for art images, illustrations, books, pictures, magazines, covers and luxury goods packaging.
Size: 787x1092mm, 880x1230mm
Weight: 70-250g/m2
Offset Paper
One kind of Printing Paper. The both sides of the Offset paper are coated with glue material in the production process to improve the surface properties. Offset paper mainly used for offset printing or other printing presses that for higher level color printing, and suitable for printing cover of single or multi-color publications, magazines, text, inserts, maps, color marks, posters, and various packaging materials.
General weight: 60 – 120 grams/m2,
There are also 150 grams, 180 grams, and even 300g of high weight offset paper.
Color: There are not only beige, ivory white, but also color offset paper.
Writing paper
Mainly used in exercise book, records and other writing purpose, also this paper can be used for printing books, magazines and so on.
Weight: 45, 50, 60, 70, 80grams/m2
Paper Roll Width: 787mm, 1092mm
Copy Paper
Normally means Static Copy Paper and most widely used in office work. There are Pure wood pulp copy paper and recycled copy paper.
Printer Paper
Normally same as Copy Paper.
Liner Board
Mainly used in processing packaging cartons, and yarn tube.
Yellow anti-sticking base paper
Transfer paper for self-adhesive labels